Meet Our Team
"There are so many travel options out there, I help to make sense of all the information—and misinformation—available on the internet. I've been there and done that!"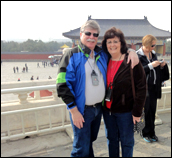 Linda B.
Co-owner and Travel Specialist
After years of planning my own family vacations, friends of mine suggested that I start planning for other people. For the past three decades I have helped my clients create memories on all continents. Whether you are looking for a group tour in Asia, a river cruise down the Rhine in Europe, or a cruise through Alaska, call me and we can plan your experiences together.
---
"Being able to split my time between doing the accounting for the agency and helping my clients plan their vacations makes it fun to go to work."
Steve B.
Co-owner and Treasurer
They call me the Caribbean Cruise master. I began working with Boca Express Travel as the accountant in 2009. After years of planning my own cruises in the Caribbean I began planning for our clients as well. I am an expert at finding the best cabins and itineraries for my clients. If you are dreaming of a wonderful Caribbean vacation, call me and I will help you make it a reality.
---
"A journey of a thousand miles must begin with a single step." – Lao Tzu
Stacey F.
Co-Owner, Travel Specialist and American Express Disney Insider
One of the best parts of my job is receiving emails and photos from my clients while they are on vacation. In 2006 I returned from Israel, exhausted after 3 weeks of touring and filled with a passion for travel and exploring the world. Later that week I joined the team at Boca Express Travel and can't imagine doing anything else with my life. I have the honor of being one American Express's Travel Insiders for Disney Vacations, Romance Travel, and Family Travel. It is my joy to make your travel dreams come true. And please don't forget to send pictures!
---
"Hope to see you on one of our groups that I will be escorting!"
Marion R.
Travel Specialist
Marion is a travel consultant with Boca Express Travel. Having worked with the agency for over 19 years, Marion expertly plans vacations and business trips for a variety of clients. As such, they escort American Express travel groups on cruises, including trans-Atlantic crossings
Marion has been a travel agent for over 45 years. Originally working for a highly respected agency in Philadelphia, Marion learned everything from planning itineraries to writing tickets. After taking a sabbatical to have three children, Marion returned to the industry until 1996, when after only six weeks of retirement she decided to once again re-enter the workforce. Her incredible knowledge of the industry and expansive travel resume, including Turkey, Morroco, South and Central America, Russia and Asia, make her an invaluable resource to Boca Express Travel.
---
"I am very fortunate to have found my passion in the travel industry and look forward to making your travel dreams come true as well!"
Ronit "Roe" N.
Travel Specialist, Manager, and American Express Israel and Italy Travel Insider
Travel is about connecting. Connecting with places and with people and with other cultures. When I was 18 years old, I took my first job in the travel industry, and it has been my passion ever since. I craft one-of-a-kind vacations that cater to your wants and needs. I am proud to be an American Express Travel Insider for both Israel, the land of my birth and for Italy, the land of my heart. My years of experience have taught me that it is crucial to work with the best partners in each destination to make sure not only that my clients have the best vacation possible, but that there is someone there to support our clients if anything should go wrong.
---
"The world is a book and those who do not travel read only one page" – St. Augustine
Giselle L.
Travel Specialist
Giselle joined Boca Express Travel after relocating from NJ with her husband. With over 27 years of experience in the Travel Industry, she has a wide knowledge of the travel business and brings with her many great travel experiences as well as wonderful destination knowledge.
Most recently Giselle was an award-winning Business Development Manager for American Express Vacations. Feel free to come in and pick her brain for your next journey. She will be happy to assist.
---
"You can't control the past, but you can control where you go next." – Kristen Hubbard
Marcy M.
Travel Specialist
I've been in the travel industry for 27 years. My favorite thing about being a travel agent at Boca Express Travel is helping others create an experience that will be a forever memory. I also enjoy the relationships that I have built over the years working with Liberty Travel and Edventures. Clients and co-workers have become my extended family.
My favorite thing about traveling is experiencing the beautiful sights and people away from home. I have traveled to Australia, Europe, Caribbean, Mexico and throughout the United States, touring and cruising. It is always wonderful to take a break from work and everyday stress.
---
"Man cannot discover new oceans unless he has the courage to lose sight of the shore" – Andre Gide
Juan S.
Travel Specialist
I have the privilege of being the newest addition to the wonderful and knowledgeable team at Boca Express Travel. As a native Venezuelan, I speak fluent Spanish. I've been a Travel Agent for more than twelve years and have a deep passion for travel. My husband and I have enjoyed over twelve international cruises together and traveled to Aruba and numerous European countries. I have extensive experience in creating client-specific international cruise vacations and I find my job to be most rewarding when I receive feedback from my clients stating that they have just had the "best vacation of their lives"! I would love to do the same for you as well.
---
We travel not to escape life but for life not to escape us. - Thomas Jefferson
Elizabeth W.
Travel Specialist